Fools Pitied, Jibba-Jabba Stopped
Tomorrow I'm skipping the country for a few days. Let's just say the phrases "grand jury indictment," "extradition laws," and "magnetic poodle-accelerator cannon" have become very, very important in my life right now.
I'll be back soon. Until then, I leave you with a proud symbol of all that is good in America.
Courtesy of the
Jack Kirby Collector
,
Filing Cabinet of the Damned
presents you with the two greatest titans of American Popular Culture, together for the first and only time.
This is no joke. No forgery. No imaginary story.
I give you:
JACK KIRBY DRAWING MISTER T!!!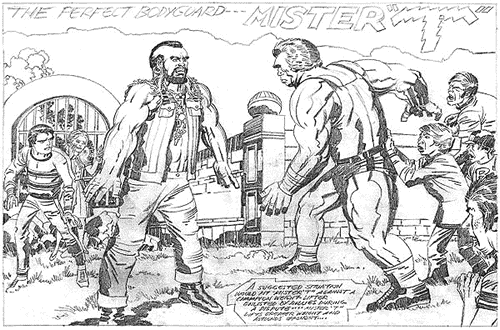 (Why T's arms are locked at the elbow, I have no idea. Late-period Kirby had a lot of...stylistic eccentricities. Ah, well.)
KIRBY!! T!!
WOOOO!!!